Volunteer
Season 13 May 30-June 2, 2024 Austin, Texas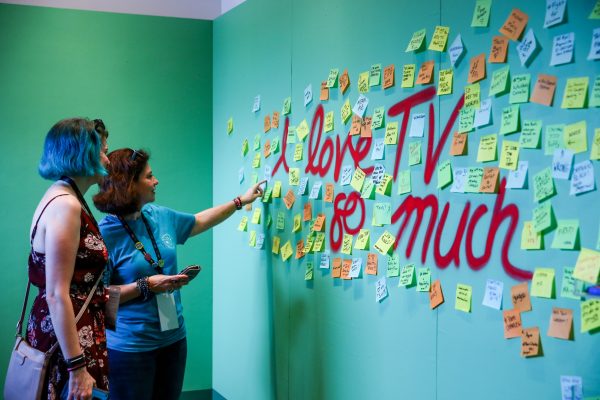 We hate to brag (or do we?), but our Volunteers are simply the best! They are the heart and soul of ATX TV Festival.

Volunteers are the folks that keep things running smoothly - the magic of TV people committed to helping other TV people have the very best festival ever - and we simply wouldn't be able to festival it up without you.

Season 13 Volunteer Applications will open in Spring 2024 - make sure to fill out our Volunteer Interest Form to be alerted when they open! You can also check out our handy dandy FAQs about what to expect when volunteering for #ATXTVs13 below.

Getting Started
In order to volunteer, you need to be 18 years or older. If you'd like to volunteer for our Transportation Team, you'll need to be 25 years or older.
Our volunteers have the opportunity to craft their own schedules – each volunteer chooses the shifts they would like work, based on shift availability. Most of our volunteers sign up for a variety of departments and jobs throughout the festival so they can check everything out, but it's all about you crafting a schedule you'll enjoy. So if driving is your thing, sign up for all Transportation shifts. Really into emojis? Check out the Social Media Team!
Festival teams include Events, Festival Support, Greeters, Lounge, Merch, Registration, Security, Social Media, Transportation (Drivers), and Venue so be sure to check out all the available shifts once they're posted. Do keep in mind that there are special requirements to join some teams – for example, members of the Events Team need to have evening availability – so make sure to read through all requirements before you sign up!
Absolutely!
Volunteer Orientations will be offered multiple times leading up to the Festival, and are held both virtually and in person in Austin, TX. Volunteer Orientation is mandatory (out of towners, keep an eye out for the virtual meetings, as well as a meeting close to festival start time for you to attend), and locations and times will be sent out via email. The same information will be given out at all the Volunteer Orientations, so you only have to attend one of the meetings, unless you really like us and just want to hang out.
At Volunteer Orientation we'll go over the basics of volunteering with ATX TV Festival, and fill y'all in on what to expect. Bring all your questions!

For those that are coming in from out of town, we recommend coming in the Monday or Tuesday before the festival and heading home the Monday after we've wrapped. We'll have volunteer shifts starting bright and early on Tuesday, May 28, 2024 and shifts go through the afternoon of Monday, June 3, 2024.
If you sign up for and work the required number of shifts, you will receive a Volunteer Badge. When you're not on shift (and not wearing your Volunteer t-shirt), you'll be able to line up in the general Badgeholder line for programming. Please keep in mind that Volunteer Badges do not have access to the Fast Pass System, so if grabbing a Fast Pass is important to you, you might want to consider purchasing a Camp or GP Badge.
Pro tip: If a panel / screening strikes your fancy, we suggest you sign up to work it if there's a shift available.

And on the flip side, if you're planning to volunteer just to see one specific event, we strongly suggest you mull over that choice. We advise all our Badgeholders, including those with Volunteer Badges, not to attend for a single event or individual. Badges do not guarantee entry to any single screening, panel, or event, only admission up to capacity, and if you only want to see one person, you may very well be disappointed. We do our best to prevent changes in programming, however schedules can change or an opportunity to see them simply may not arise.
Volunteer Shifts & Duties
Shift selections run on a seniority system – returning volunteers are able to register for shifts before our new volunteers. Volunteer shift sign up info will be emailed to you before shifts are open for selection.
If there are highly anticipated panels / screenings / events, it's definitely possible those volunteer shifts are going to fill up quickly! If all of the shifts are full for a particular piece of programming, we suggest you check your email regularly or touch base with the Volunteer Team. Throughout the festival we'll send out Volunteer Calls if shifts open up and we need extra help, and we'll fill these spots on a first response basis.
First off, make sure to add tv@atxfestival.com and volunteer@atxfestival.com to your Contacts to avoid important emails from going to your Spam or Junk folders.
As things start to ramp up, we can't guarantee specific dates of correspondence, but we'll be in touch with updates as the festival approaches. We suggest that you routinely check your email for info from the Volunteer Department, but if you're getting nervous, just reach out to volunteer@atxfestival.com!
At the Festival
Volunteers will be given Volunteer Crew T-Shirts! You must wear your volunteer shirt during every shift, and you can't alter your shirt in any way during the festival. As for the rest of your outfit, we suggest that you wear comfortable clothes like jeans and tennis shoes. You'll be running around and on your feet all day, and we want you to be comfy.
And if you'd like to wear shorts / skirts, that's totally fine – this is Texas and it's hot in June, y'all. Just please be mindful that your shorts or skirt are an appropriate length.
If you'd like to attend programming or events when you're off shift, make sure to bring another top so you can change out of your Volunteer shirt!
You are responsible for paying for your own parking, and there are several parking lots / garages near our Volunteer Hub and other festival venues – check out options on platforms like Spot Hero.
But all things being honest, parking downtown can be a headache. Rather than driving your own car, we recommend carpooling, having someone drop you off / pick you up, or making use of other transportation options – Capital Metro, MetroBike, or ride shares. The Downtown Austin Alliance has some suggestions too. If you do decide to drive and want to take advantage of metered street parking, check out Park ATX as you won't be able to run to your car every two hours to feed the meter.
We work hard to have snacks available but can't guarantee food, so we strongly suggest you bring your own snacks and water bottles. There are also a bunch of places to eat within walking distance of all our venues, and you're free to go grab a snack if your shift leader has oked it, or once your shift is completed.